Expert Stylist, Expert Results
Scottsdale Hair Stylist Jodi Salvatore, Ranked Among the Top 3 Stylists in Scottsdale, and the "Best of our Valley" for 2014 and 2015.
Over the past 18 years, Jodi Salvatore has been doing what she loves the most: creating amazing looks and setting trends.  After graduating, she has been a quintessential salon professional and fashion leader who has mastered the art of cutting, coloring and relaxing and is an expert at achieving unbelievable results that always attract attention and compliments. Jodi is proud to have been selected as Arizona Foothills Magazine's "Best of Our Valley" for 2014 and 2015.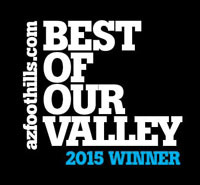 Jodi's passion for hair styles and color motivates her to continually further her education. Jodi also educates other salon professionals, helping them fine-tune their skills and techniques. And if you're looking for the ultimate in ammonia-free professional color, you'll be glad to know that Jodi is also trained in L'Oreal's ammonia-free permanent hair color, INOA, and continues her education by learning how to master the latest techniques, including Ombre, Sombre (a more subtle version of the Ombre), and Balayage. Call Jodi today to experience these amazing techniques. Jodi also specializes in managing curly hair, and she is certified in many different types of relaxers such as Brazilian keratin treatments, Japanese straightening treatments, and regular hair relaxers. Appointments with Jodi are thorough from beginning to end. Not only will she transform your look from drab to fab, her training skills mean she'll walk you carefully through all the steps you need to know to achieve the same results at home. Your satisfaction is Jodi's number one goal. Available by appointment, Jodi Salvatore offers to each client a personalized and unique style which suits their needs and brings out their beauty within.